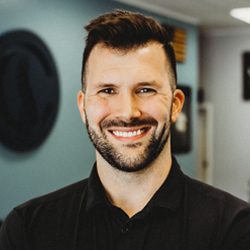 Chiropractor
Jason O'Rear D.C.
Welcome to Limitless Chiropractic! Limitless Chiropractic was born out of a desire to help others and years of rigorous training. As a young boy growing up in Covington my father became paralyzed after a severe accident. Looking for any help that we could find my father soon went from doctor to doctor hoping someone could help him.
I remember feeling angry and frustrated. Why did my dad have to get in that accident? One particular neurosurgeon however, confronted me with a reality that I was unaware of. He said, that It wasn't the accident that caused the problem. The accident was the straw that broke the camel's back. In reality, my father's spine had been degenerating for years due to improper alignment of his spine. The neurosurgeon went on to tell my father and I that if he had seen a chiropractor before his accident, then he might have been able to prevent the series of problems in the accident aftermath.
My journey to become the chiropractor that my father should have seen, took me from Northlake Christian School, to Millsaps College in Jackson Mississippi. There I was a two-sport athlete, broke the school record for receiving touchdowns in a career, and was nominated for the Conerly Trophy. It is also where I met my amazing wife Morgan, who would later on share my journey to Atlanta upon graduation, to pursue my Doctorate of Chiropractic, and become a dad to four beautiful children- Addison, Konner, Loxley, and Cecilia.
Although obtaining my degrees through the years took me far away from Covington, I've always felt a calling to come back home. The human body has always fascinated me. As an athlete, I gained a great deal of knowledge on the importance of proper biomechanics. As a result, I analyze the biomechanics of each and every patient that enters my office through a detailed protocol of analysis known as Homeostatic tensegrity.  Dysfunction in a person's Homeostatic tensegrity can present as many of the common, but not normal, symptoms that cause patients to seek chiropractic care, such as neck and back pain, headaches, sciatica, shin splints, ankle issues and even digestive issues. However, once proper Homeostatic tensegrity is re-established the body can biomechanically operate as it was intended and true healing begins.  The body is an amazing thing, but when not properly maintained, it cannot sustain the pressure we endure on a day to day basis. The wear and tear we place on our body's daily effects every bone, organ and tendon that we have. Regular chiropractic care, as provided in my office, helps to ensure we keep the body in motion, and are functioning optimally. With an optimally functioning body the possibilities in life are limitless!!!
Chiropractor
Alaina Wischmeyer D.C.
I am a graduate of Life Chiropractic College in Hayward, CA. My approach in achieving spinal health means assessing the whole body and the way each moving piece plays a role in your health. I strive to discover the root of your pain so you may one day never have to experience abnormal symptoms.
I am a New Orleans native that began my healthcare career as a Nationally Board-Certified massage therapist. I have also completed business school at the University of New Orleans and combine this skill set to launch my first massage business that served both the families and professional athletes living in the city. I later suffered a life-changing back injury along with loss of function in my right leg. It was because of this injury that I found myself at a local chiropractic office. The life-changing adjustments opened my eyes and mind to a new side of health care. Within a semester I had completed the remaining science prerequisites and enrolled at Life Chiropractic College in Hayward, California.
At Life College, I spent four years diving into the art, philosophy, and science of Chiropractic. In my final year as a chiropractic intern, I had the privilege of traveling to India, serving thousands of individuals in the Nirankari Mission. Within weeks of returning from the mission, I began attending professional ski and snowboarding events such as Dew Tour as one of the medical staff that tended to the athletes. These events inspired me to move to and open an office in Breckenridge, CO. After four years of service to the mountain community I sold my practice to return to my home-town of Covington, Louisiana. I hope to bring my unique experience of travel and service to better serve the people of the north shore and St. Tammany Parish.
Chiropractic Assistant
Jenni Rollins
Hi, I'm Jenni! I started getting adjusted 16 years ago and that is when my appreciation and strong desire to gain more knowledge about chiropractic began! When the opportunity to work as a chiropractic assistant presented itself 5 years ago, I was thrilled. Those 5 years have fueled my passion for chiropractic and now I am excited to continue my experience here at Limitless Chiropractic!
I am excited to help others in the teaching of chiropractic and how it aids in the body's daily functioning and healing. My passion is infants and children, having now three of my own, I understand the importance of having them adjusted regularly.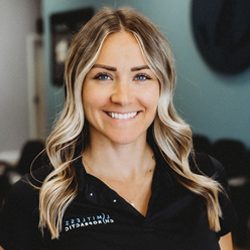 Chiropractic Assistant
Kayla Gilchrist
Hey y'all, I'm Kayla. I'm married to my high school sweetheart and we have two beautiful children. My oldest is a boy and my youngest is a girl. I was introduced to chiropractic care when my son was 18 months old and had chronic ear infections. Chiropractic care eliminated his ear infections and sparked my passion for all thing's health and wellness.
I received regular adjustments throughout my entire second pregnancy which aided me in having an amazing natural water birth. 
My entire family and I look forward to our regular adjustments. We love how great it makes us feel and how it keeps us healthy. I'm excited to be part of Dr. Jason's practice and spread my passion for health, wellness, and chiropractic care to our patients.
Chiropractic Assistant
Kimberly Carter
Hello I'm Kimberly. In 2016, I was in a bad car accident and I was not sure how to go about giving my body the proper healing that it needed. After a few weeks of researching Chiropractic, I received my first adjustment, and ever since then I have been in love with the natural approach to healthcare that Chiropractic offers. Being adjusted regularly has produced so many positive benefits in my life.
I started my journey as a CA in 2017, and I love being able to see the amazing benefits Chiropractors bring to children and adults on a regular basis.  I am very excited to grow with Limitless and continue to spread my passion for health and wellness!
chiropractic assistant
Mary Claire Hessemer
Hi, I am Mary Claire and I am from Covington, LA. I discovered chiropractic care when traditional migraine medicines were not bringing relief to my chronic headaches. Getting my weekly adjustments have impacted me tremendously and I am now off of my migraine medication completely! 
Dr. Jason and the whole team have been such a great support system during that process. My favorite part of the job is getting to hold the babies when they come in for their adjustments. When away from the office, I love traveling, taking care of my cat Lennon, and working as a nanny.
Chiropractic Assistant
Megan Bridges
Hey y'all, I'm Megan. In 2018 I graduated from Southeastern and started my career in healthcare, helping to heal others at a local hospital. Looking for a more natural alternative to health, I came across chiropractic care. After meeting with Dr. Jason and the Limitless team I was introduced to regular adjustments and all the positive benefits they offer for one's health and well-being.
I joined the Limitless team in January 2022 and am so excited to learn and grow with them. I love the passion and motivation to educate others our team has here and am excited to share it with you!
Chiropractic Assistant
Rileigh Kaack
Hi, I'm Rileigh! I am a recent graduate from Covington High School and will be attending Life University in the fall to become a chiropractor. Ever since I was young, I knew I wanted to help people. I had some back pain for a few years and my mom suggested I see a chiropractor. After learning more about the profession I fell in love with chiropractic.
I was presented with the opportunity to work with Dr. Jason and the amazing Limitless staff. It has been one of the biggest blessings working with and learning from them. I cannot wait to learn more about chiropractic care, so that I can fulfill my goal of helping others!
OFFICE HOURS
---
Monday
9:00am - 12:00pm
3:00pm - 6:00pm
---
Tuesday
3:00pm - 6:00pm
---
Wednesday
9:00am - 12:00pm
3:00pm - 6:00pm
---
Thursday
9:00am - 12:00pm
3:00pm - 6:00pm
---
Friday
9:00am - 2:00pm

---
Saturday
By Appointment